THE PATCH: The People, Pipelines and Politics of the Oil Sands wins the $30,000 prize as Canada's outstanding business-related book
TORONTO, October 2, 2018 – Chris Turner has been named the winner of the National Business Book Award for his book, The Patch: The People, Pipelines, and Politics of the Oil Sands, published by Simon & Schuster.  The announcement was made at the Award Ceremony today in Toronto, hosted by co-sponsors BMO Financial Group and Bennett Jones.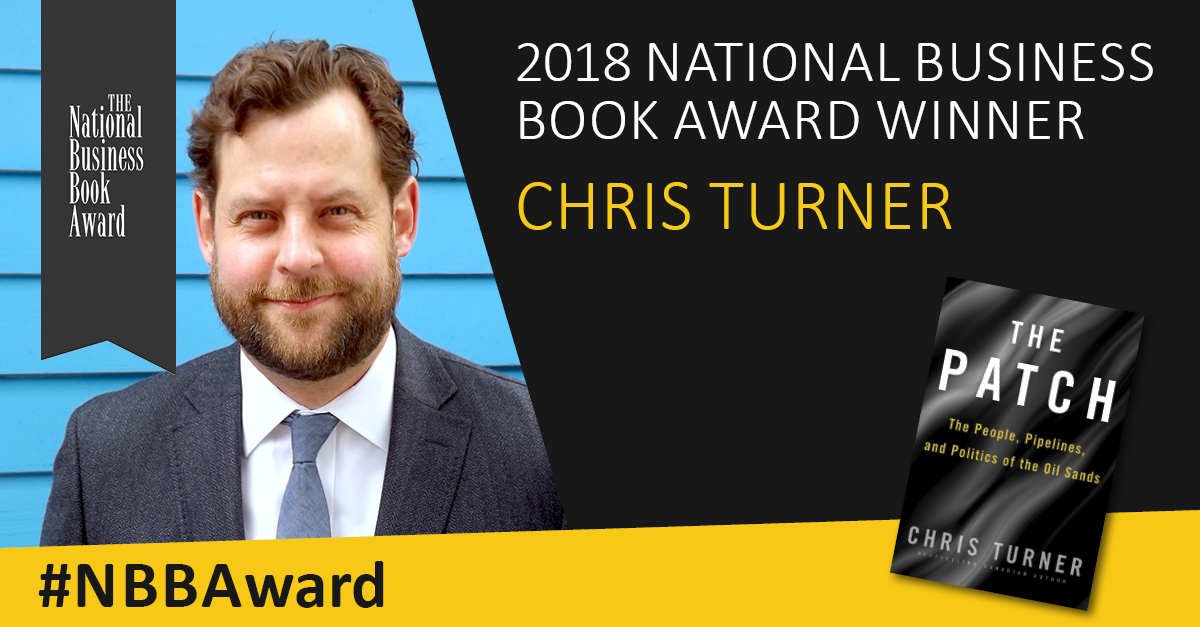 The Patch provides a balanced perspective on the often-polarizing national debate about the development of Canada's oil sands.  With two conflicting world views – one of industrial triumph, the other of environmental concerns in the age of climate change – Turner explains the history, science and context surrounding one of the world's largest engineering projects and its significance for all Canadians.
The Patch is particularly timely because of the federal government's recent investment in the Kinder Morgan pipeline and its heightened focus on market access.  This means that Canadians not only need to engage, but they need to be better informed.
Turner is an award-winning author and one of Canada's leading voices on climate solutions and the global energy transition.  He is a National Business Book Award finalist for The Leap: How to Survive and Thrive in the Sustainable Economy and The Geography of Hope: A Tour of the World We Know and has earned nine National Magazine Awards.  He lives in Calgary.
"What makes the National Business Book Award incredibly fresh and relevant each year is the conversation that it creates in business and literary communities across Canada," says Gino Scapillati, Vice Chair, Strategy and Innovation, Bennett Jones. "Our lawyers share the business community's intellectual curiosity for innovative and thought-provoking stories that inspire and enlighten."
"BMO is proud to continue our long-time support for Canada's business writers," says Catherine Roche, Head of Marketing and Strategy, BMO Financial Group. "Canada has great business writers who have a global perspective. This award highlights Canada's best business analysis and writing delivering unparalleled value to Canada's business environment."
The prestigious and independent jury evaluates eligible nominations based on five key criteria including originality, relevance, excellence of writing, thoroughness of research and depth of analysis.
The National Business Book Award jury is chaired by Peter Mansbridge, former Chief Correspondent, CBC Television News. Other jurors include: Deirdre McMurdy, Adjudicator; David Denison, corporate director; author and publisher Anna Porter; The Honourable Pamela Wallin and Leonard Waverman, Dean of DeGroote School of Business, McMaster University.
The finalists for this year's National Business Book Award included:
Patricia Meredith and James Darroch, Stumbling Giants: Transforming Canada's Banks for the Information Age, published by University of Toronto Press
Jennifer Riel and Roger Martin, Creating Great Choices: A Leader's Guide to Integrative Thinking, published by Harvard Business Review Press
Donald Savoie, Looking for Bootstraps: Economic Development in the Maritimes, published by Nimbus Publishing
The National Business Book Award is an annual celebration of Canadian authors of outstanding non-fiction business-related books. It continues to gain attention from not only the Canadian business world, but also publishers, authors, journalists, academics, economists and business leaders internationally.
Supporting partners for the National Business Book Award are DeGroote School of Business, McMaster University and Toronto Region Board of Trade.
About BMO Financial Group
Serving customers for 200 years and counting, BMO is a highly diversified financial services provider – the 8th largest bank, by assets, in North America. With total assets of $765 billion as of July 31, 2018, and a team of diverse and highly engaged employees, BMO provides a broad range of personal and commercial banking, wealth management and investment banking products and services to more than 12 million customers and conducts business through three operating groups: Personal and Commercial Banking, BMO Wealth Management and BMO Capital Markets. www.bmo.com.
About Bennett Jones
Bennett Jones is one of Canada's premier business law firms and home to 400 lawyers and business advisors.  With deep experience in complex transactions and litigation matters, the firm is well equipped to advise foreign businesses and investors with Canadian ventures, and connect Canadian businesses and investors with opportunities around the world.  Find out more and tell us what matters to you by visiting us at www.bennettjones.com.
–
Follow us on Twitter @NBBAward and visit www.nbbaward.com for more information.
To arrange interviews please contact:
Mary Ann Freedman
Freedman & Associates Inc. for the National Business Book Award
Tel: 416-868-1500
Email: mafreedman@freedmanandassociates.com